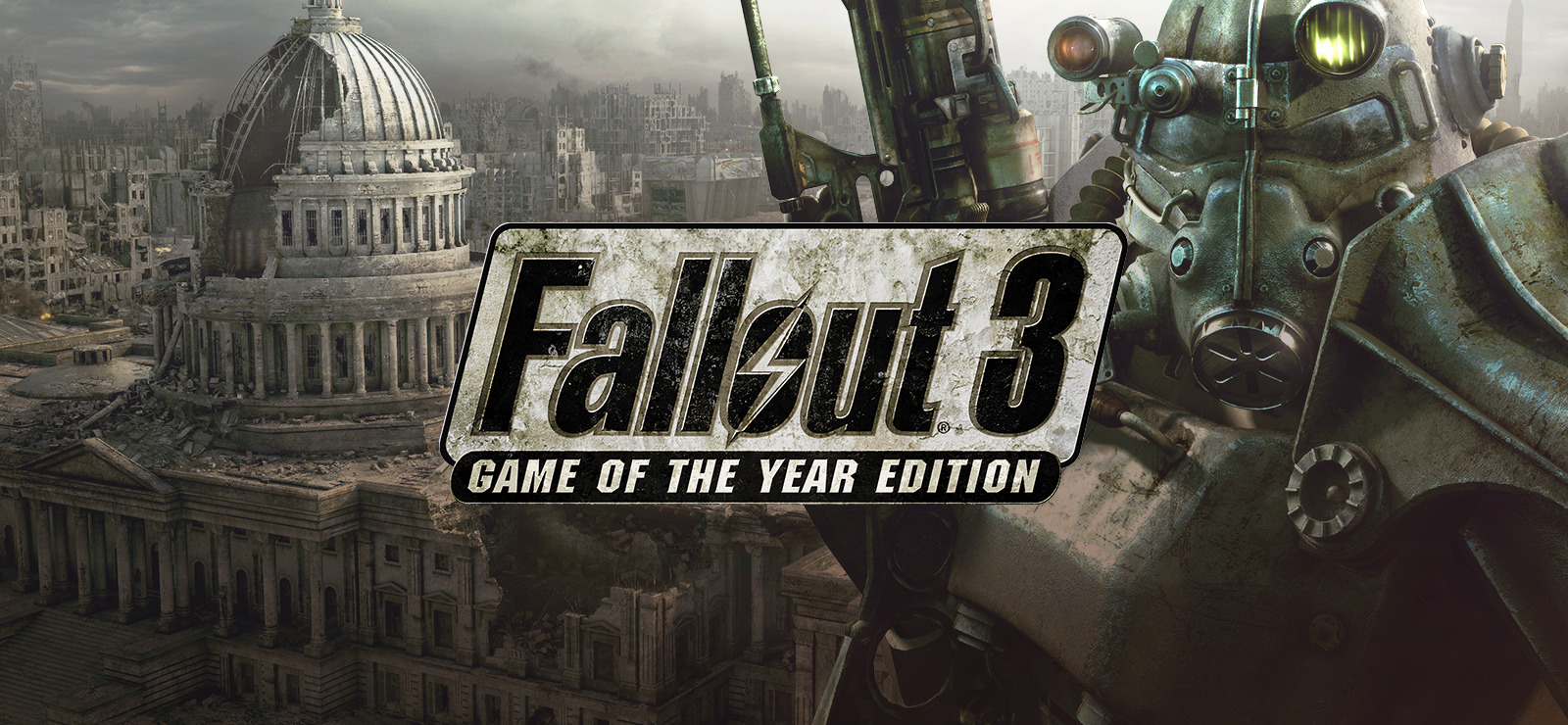 Descripción
Detalles
Caracteristicas
Requisitos
Contenido Adicional
Links
Trailer
Prepárate para el futuro ™
Con Fallout 3: Game of the Year Edition, experimenta el juego más aclamado de 2008 como nunca antes. Cree un personaje de su elección y descienda a un mundo post-apocalíptico inspirador, donde cada minuto es una lucha por la supervivencia. Fallout 3: Game of the Year Edition incluye los cinco paquetes adicionales del juego de Fallout 3:
Operación: Anchorage – Ingrese a una simulación militar y luche en la liberación de Anchorage, Alaska de sus invasores comunistas chinos.
The Pitt: viaja a los restos post-apocalípticos de Pittsburgh y se vease envuelto en un conflicto entre esclavos y sus maestros asaltantes.
Broken Steel: aumenta tu límite de nivel a 30 y termina la lucha contra los remanentes del Enclave junto con Liberty Prime.
Point Lookout: embarquese en una aventura misteriosa y abierta en un pantano enorme y turbio a lo largo de la costa de Maryland.
Mothership Zeta: desafía a los secuestradores alienígenas hostiles y lucha para escapar de la nave nodriza alienígena, que se encuentra en órbitas millas por encima de la Capital Wasteland.
Características principales
Libertad ilimitada: ¡toma las vistas y los sonidos de la vasta Capital Wasteland! ¡Vea los grandes monumentos de los Estados Unidos en ruinas posapocalípticas! Haces las elecciones que te definen y cambias el mundo. ¡Solo echa un vistazo a tu Rad Meter!
Experiencia S.P.E.C.I.A.L. – ¡Los ingenieros de Vault-Tec te traen lo último en simulación de habilidades humanas, el Sistema de caracteres ESPECIAL! Utilizando nuevos avances en la representación de habilidades basadas en puntos, SPECIAL ofrece una personalización ilimitada de tu personaje. ¡También se incluyen docenas de habilidades y beneficios únicos para elegir, cada uno con una deslumbrante variedad de efectos!
Fantásticas vistas nuevas: ¡los magos en Vault-Tec lo han vuelto a hacer! Ya no está limitado a una sola vista, experimenta el mundo desde la perspectiva de la primera o la tercera persona. ¡Personaliza tu vista con el toque de un botón!
El poder de elegir: ¿Te sientes como un malvado villano hoy o un buen samaritano? Elija un lado o camine la línea, ya que cada situación se puede tratar de muchas maneras diferentes. Hable de sus problemas de una manera civilizada, o simplemente destelle su rifle de plasma.
Blast 'em Away With V.A.T.S. – ¡Incluso las probabilidades en combate con el sistema de orientación asistida Vault-Tec para su Pip-Boy Model 3000! V.A.T.S. le permite detener el tiempo en combate, apuntar partes específicas del cuerpo en su objetivo, poner en cola los ataques y dejar que Vault-Tec saque su agresión por usted. Llueva la muerte y la destrucción en una nueva presentación cinematográfica.
Inteligencia Artificial Inteligente: En Vault-Tec, nos damos cuenta de que la clave para revivir la civilización después de una guerra nuclear global es la gente. Nuestras mejores mentes unieron sus esfuerzos para producir una versión avanzada de Radiant AI, America's First Choice en simulación de interacción humana. Las expresiones faciales, los gestos, el diálogo único y el comportamiento realista se combinan con sorprendentes resultados con lo último en tecnología Vault-Tec.
Estupendo atisbo de belleza * – Sea testigo de las duras realidades de las consecuencias radiactivas nucleares, como nunca antes se había visto en los modernos gráficos HD súper deluxe. Desde los áridos yermos, hasta las oficinas y los túneles de metro llenos de peligros de DC, hasta la horrible carne podrida de la cara de un mutante.
* Gafas protectoras alentadas.
Store Page: http://store.steampowered.com/app/22370
Genre(s): RPG
Developer: Bethesda Game Studios
Publisher: Bethesda Softworks
Release Date: 17 Dec, 2009
Language(s): English, French, German, Italian, Spanish
Formato: ISO
Hosts: TORRENT
Estado: Funcionando
Uploader: Nightwinter

Single-player
Steam Achievements
Full controller support
Minimum:
Operating system: Windows XP/Vista
Processor: 2.4 Ghz Intel Pentium 4 or equivalent processor
Memory: 1 GB (XP)/ 2 GB (Vista)
Hard disk space: 7 GB
Video: Direct X 9.0c compliant video card with 256MB RAM (NVIDIA 6800 or better/ATI X850 or better)
Sound: DirectX®: 9.0c
Controller support: Xbox 360 controller
Supported Video Card Chipsets:
NVIDIA GeForce 200 series, Geforce 9800 series, Geforce 9600 series, Geforce 8800 series, Geforce 8600 series, Geforce 8500 series, Geforce 8400 series, Geforce 7900 series, Geforce 7800 series, Geforce 7600 series, Geforce 7300 series, GeForce 6800 series
ATI HD 4800 series, HD 4600 series, HD 3800 series, HD 3600 series, HD 3400 series, HD 2900 series, HD 2600 series, HD 2400 series, X1900 series, X1800 series, X1600 series, X1300 series, X850 series
Recommended:
Operating system: Windows XP/Vista
Processor: Intel Core 2 Duo processor
Memory: 2 GB System RAM
Hard disk space: 7 GB
Video: Direct X 9.0c compliant video card with 512MB RAM (NVIDIA 8800 series, ATI 3800 series)
Sound: DirectX®: 9.0c
Controller support: Xbox 360 controller